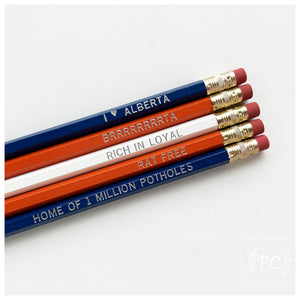 alberta love - rich in loyal
Regular price $13.00 Sale
Pencils are designed and hot foil stamped by me :). Each set is hand assembled into a protective plastic sleeve. Please note: colour combinations may vary depending on stock and because of the nature of hand stamping imperfections do occur.
– set of 5
– No. 2 graphite
– Musgrave pencils (manufactured in the USA)
Rich in Loyal is a brand dedicated to our province and all that it does for Canada. It's for the natural resource that fuels our economy, it's for our storied sports history, above all it's for the hard working people who call Alberta home. Support local, support Alberta. Make a statement and wear this proudly! Kicking' it old school with a vintage style print!